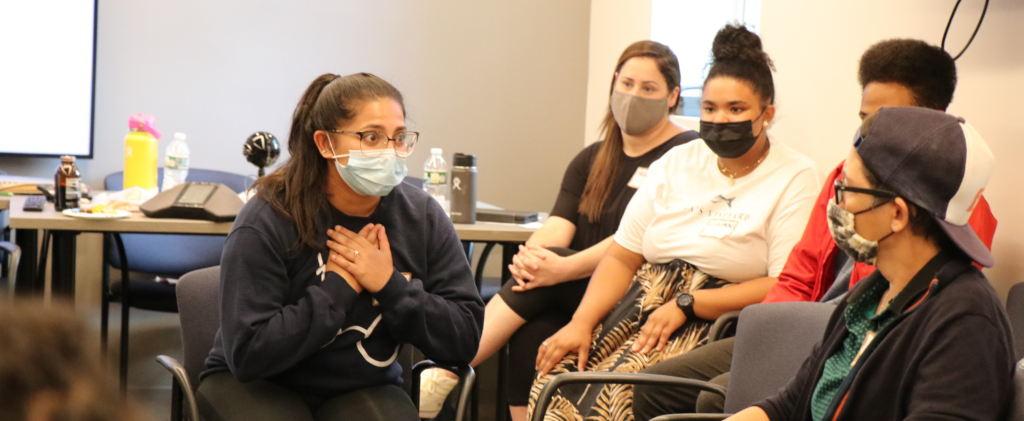 Book Rehearsal for Life's team of teaching artists to work with your school, business or community group in the Urban Improv Assembly format to build community and enhance dialogue on difficult issues. Assemblies & Team Building Workshops run 60 minutes, and are available for all ages.
Our model can be adapted for Grade 3 and up, including adults of any age! Assemblies & Team Building Workshops promote three key social emotional skills:
Self & Social Awareness
Relationship Skills
Proactive Decision Making
The Urban Improv method combines improvisational scenes and live group discussions to reinforce empathy and respect, while giving participants the opportunity to learn, reflect, practice and share.
Topics Include:
Microaggressions (Grades 6 through 12 or adults)
A la carte selection of scenes where characters experience subtle discriminations (racial, gender, sexual orientation, identity expression, ability, age) in their daily lives and navigate their own emotions and social relationships around them.
Cyberbullying & Technology (Grades 5 through 8)
Millie and Faye have been friends since kindergarten. After an argument leads to Millie sharing a private video made for her eyes only, Faye is left friendless with a viral video of herself on the internet.
Bullying & Bystander Issues (Grades 3 through 6)
It's Marty's first day at a new school and things are off to a not-so-great start. The teacher mispronounced his name and now everyone is laughing at him, especially Sam and Carla. Things come to a head when Marty, Sam and Carla are assigned to a group project and Marty and Carla refuse to work together.
Custom Assembly Topics
Email Jamie Ullrich, Head of Urban Improv & Community Partnerships, with your specific topic and curriculum needs and we will be in touch about how we can collaborate to create an assembly designed specifically for your community.
---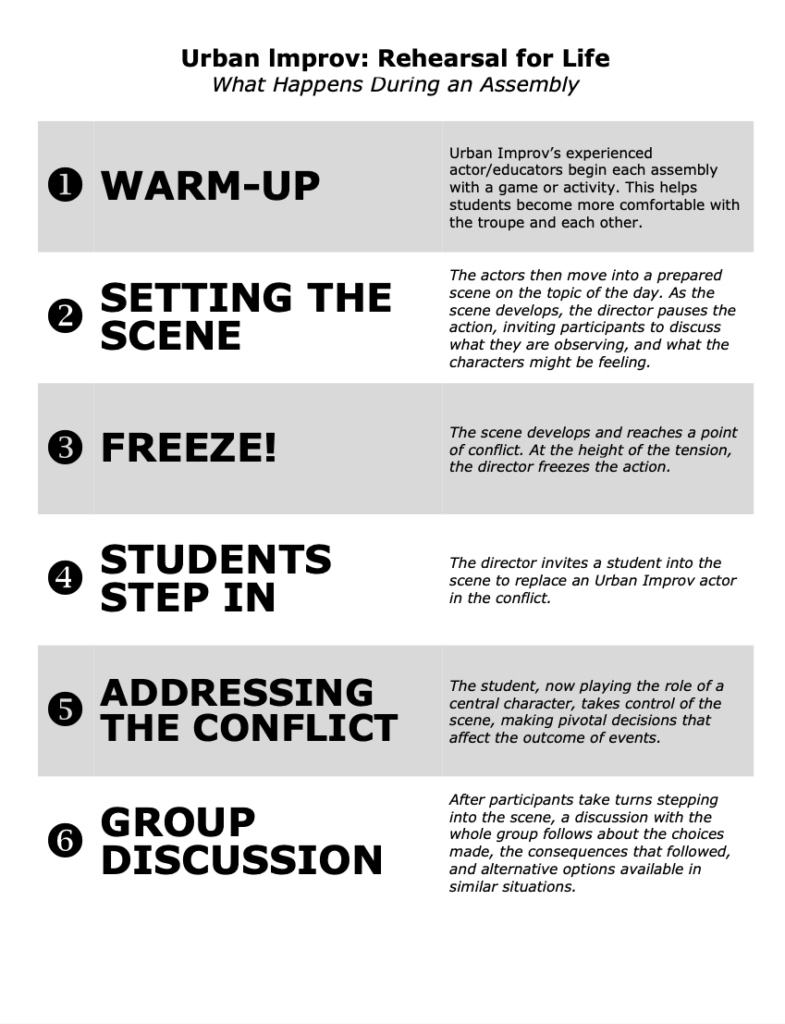 Pricing for Custom Assemblies and Team Building Workshops
10-30 participants = $1,000*
31-60 participants = $1,100*
61-90 participants = $1,300*
*Custom assembly rates listed are a starting rate for 60 minutes. Final fees will depend on estimated workshop, planning and rehearsal time.
---
"You will not believe the conversations and action you inspired amongst the residents that will surely continue and impact our clinical work. The scenes felt so realistic, injected with a sense of comfort and comedy to help temper the difficult nature of these real-life circumstances."

– Sabrina Karim, Resident Physician at Boston Children's Hospital & Boston Medical Center
---
Schools & Organizations We Have Worked With:
Elementary & Middle Schools
Ambrose Elementary School
Atrium School, Watertown
Bigelow Middle School, Newton
Birch Meadow School, Reading
Boston Renaissance Charter Public School, Boston
Brown Middle School, Newton
Buckingham Browne & Nichols, Cambridge
Charles River School, Dover
Chenery Middle School, Belmont
Curtis Middle School, Sudbury
Dale Street School, Medfield
Day Middle School, Newton
Driscoll School, Brookline
Hanscom Middle School, Hanscom
Heath School, Brookline
Inly School, Scituate
International School of Boston, Cambridge
Nashoba Brooks School, Concord
Oak Hill Middle School, Newton
Our Sisters School, New Bedford
Parker Middle School, Reading
Pierce School, Brookline
Ralph Wheelock School, Medfield
The Park School, Brookline
The Pike School, Andover
Wellesley Middle School, Wellesley
Weston Middle School, Weston
Organizations
Boston Center for Youth and Families
Boys & Girls Club of Boston
Duxbury Council on Aging
Germaine Lawrence
Islamic Center of Boston
Madison Park Development Corporation
McLean Hospital
Parent Professional Advocacy League (PPAL)
ProjectME
Winchester Multicultural Network
Boston Medical Center
Boston Children's Hospital
Colleges & Universities
Babson College
Harvard University
Lesley University
Mount Ida College
Simmons College
High Schools
Beaver Country Day School, Chestnut Hill
Bedford High School, Bedford
Belmont High School, Belmont
Belmont Hill School, Belmont
Berwick Academy, Berwick, ME
Brimmer and May School, Newton
Cambridge School of Weston, Weston
Chapel Hill-Chauncy Hall School, Waltham
Gann Academy, Waltham
Groton School, Groton
Landmark School, Beverly
Maimonides School, Brookline
Milton Academy, Milton
Newton North High School, Newton
St. John's Preparatory School, Danvers
St. Mark's School, Southborough
Thayer Academy, Braintree
The Rivers School, Weston
Winsor School, Boston
Worcester Academy, Worcester
Outside New England
Aspen Country Day, Aspen, CO
Facing History and Ourselves, New York City
Herbert Hoover School, Glendale, CA
Life After Trauma Organization, Philadelphia, PA
Perkiomen School, Philadelphia, PA
Positive Nature, Washington, DC